Head Coach: Cameron Kerns
Cameron has been a CrossFit athlete for 4+ years and followed his passion for the sport to become a coach. He is always interested in becoming a better coach and learning new skills.
As a coach, Cameron focuses on ensuring athletes are using proper form and have correct mobility before letting them increase weight or prioritize speed during workouts.
Certificates
CrossFit L-1 Trainer
USAW Sports Performance Coach
CrossFit Weightlifting Trainer
CrossFit Strongman Trainer
CrossFit Mobility
Competitions
2015 Winter Strength Pro-Am (Strongman)
2016 Oregon Feats of Strength (Strongman)
2016 USS Nationals (Strongman)
Strongman Coach: Jeff Pearson
Jeff Pearson is a world record holding Strongman and Powerlifting competitor. He has been actively competing for 6 + years and is working toward his goal of a 915 LB Backsquat. Jeff started his career with Inner Beast as a Strongman coach, and went on to become a CrossFit L-1 & L-2 Trainer so that he could coach CrossFit classes as well.
Certificates
CrossFit L-1 Trainer
CrossFit L-2 Trainer
CrossFit Strongman Trainer
Competitions
2016 Oregon Feats of Strength - 1st Place Heavyweight
2015 Oregon Feats of Strength - 1st Place Heavyweight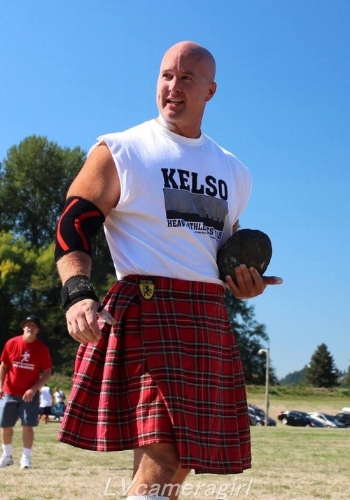 Strongman Coach: Mark Wechter
Strongman for 18 years, heavy athletic (highland games) for 20.
Don't know which sounds most impressive, so you choose:
2001 North America's strongest man (lightweight)
6xOregons strongest man
6xWashingtons strongest man
3xCalifornias strongest man
2xnorth American highlander champion (half strongman half highland events)
3xNorth American highland games champion (masters)
2015 Highland games world champion (masters)
2017 Arnold highland games champion
2017 world caber champion (masters)
Still has 2 standing world records in strongman, one set in 2003, other in 2009.
Stephanie Vermeychuk
We are excited to welcome Stephanie aboard!
Coach Stephanie discovered CrossFit and Olympic lifting in 2009 and has been involved in the community as an athlete and a coach ever since. She was hooked on CrossFit immediately after completing the "baseline" workout on the first day she walked in the gym. Coach Steph narrowly missed qualifying as an individual for the Southern California Regionals in 2011 (by 1 spot!), and she competed on an affiliate team at Regionals that same year. She began coaching CrossFit in 2010 after receiving her Level 1 certificate, and in 2011 she also received her Coaching Certificate from USA Weightlifting. In addition to her Level 1 and USAW Certifications, she has also attended seminars at Catalyst Athletics, and holds CrossFit Training certificates in Mobility, Strongman, Nutrition, and Endurance. Stephanie coached at CrossFit Ventura in Southern California for 6 years and also ran a CrossFit program for the students at her former school before moving to Oregon in 2016.
Although she has switched over to competing in Strongman, which plays more to her strengths as an athlete, Stephanie is passionate about the sport of fitness as well as weightlifting, and is excited to share her knowledge with the athletes of Inner Beast CrossFit.
She is running classes and open gyms as well as teaching the Kids Fitness Camp. Come down and say hello.